Welcome to The Aerosol Alliance website! We have established this non-profit with the main goal:
to reduce the negative impact of spray paint and cans.
Below you will find the Aerosol Alliance Manifesto. To address spray paint manufactures and make the next steps towards a more sustainable spray paint industry. Be part of our movement by signing ✎ the manifesto and let's shake up our scene!
01. Manifesto
The spray can is deeply rooted in the graffiti and street art subcultures. Spray paint products have made it possible for artists across the globe to bring their ideas to life and bring color to our cities. However, we see our responsibility for the effects spray paint products have on the environment. As artists and creatives, we are aware that our planet needs help and we must ensure that we do what we can to limit our negative impact.
There is a lack of knowledge and transparency around the environmental footprint of spray paint and the material make up of this product. From the UK, Germany to the US we still are not able to find a recycling center that will successfully recycle the spray can. This brings us to the realization that we need to address the environmental impact across the entire life cycle of a spray can and all issues including recycling. We, the artists and the manufacturers, need to come together to research and discuss solutions to limit the impact that these products have on the environment. As artists, as creatives and as people passionate about our planet, we need to work together to find a more sustainable way of doing what we love.
Dear manufacturers, we've loved using your products for decades, we collaborated on numerous projects, and we share the common interest not to destroy the world we live in. We need to open up a direct and transparent dialogue on how to find solutions to make spray paint more sustainable.
*Because change is needed, it creates good karma and is f*cking good for our environment.
Roids
»Spray paint is a huge part of my life, but there is a lack of knowledge about its environmental footprint. That needs to change.«
ROIDS
Photo credit: Luke Shirlaw
»I love graffiti, but I also love our earth. I want to help make a change and spread the message: make spray paint sustainable.«
DOES
Photo credit: Spencer Shea
»Spray cans are awesome! They would be even more awesome if they were ecologically sustainable..«
BOND
Photo credit: Rocco Galli
»Sempre contro tutto! Ma mai contro la natura!
Always against everything! But never against nature!«
MR. WANY
Photo credit: Boogie
»I've been using aerosol cans since 1994 and to be honest I don't want to know how much I've used during these years. 
Graffiti culture has become huge and it's about time to act more sustainably so that the next generation can also use this wonderful tool to make the world a little more colorful.«
BOOGIE
Photo credit: @Beterblijleven
»If you love to paint, you need a world to do it.«
MUSA71
Photo credit: Arsek & Erase
»We make our world more colorful and fun. But we also need to think more about the footprint we are leaving. The more artists use spray paint the bigger the need for a sustainable solution.«
ARSEK & ERASE
Photo credit: Bakeroner
»We have to take more care about nature than we do to our works. It is not consistent to write something nature friendly on the walls and be insensitive about the tools you use.«
BAKERONER
*To improve your life, my life, their lives, our lives.
02. What you can do
As artists and creatives, but also researchers we need to come together as a community and work together. Artists can find out about tips and tricks to paint more environmentally friendly. Curators learn what is important to organize a commissioned mural in a more sustainable way together with an artist. In order to analyze the status quo, manufacturers need to start measuring their product footprint. And, last but not least, the recyclers need to know how to help with reducing the impact of aerosol can waste. Please see our WHAT YOU CAN DO pages below.
03. Facts
On the facts pages, we dive into the environmental impact of spray paint. What does the supply chain of spray cans look like? The main conclusion is that the largest share of the impact is coming from the production of spray paint and the can itself. Learn more about the impact of spray cans and how we aim to reduce the environmental impact over time. Towards carbon neutral spray cans in 2030!
Did you know that one can of spray paint has an impact of ~2.3 kg CO2-eq?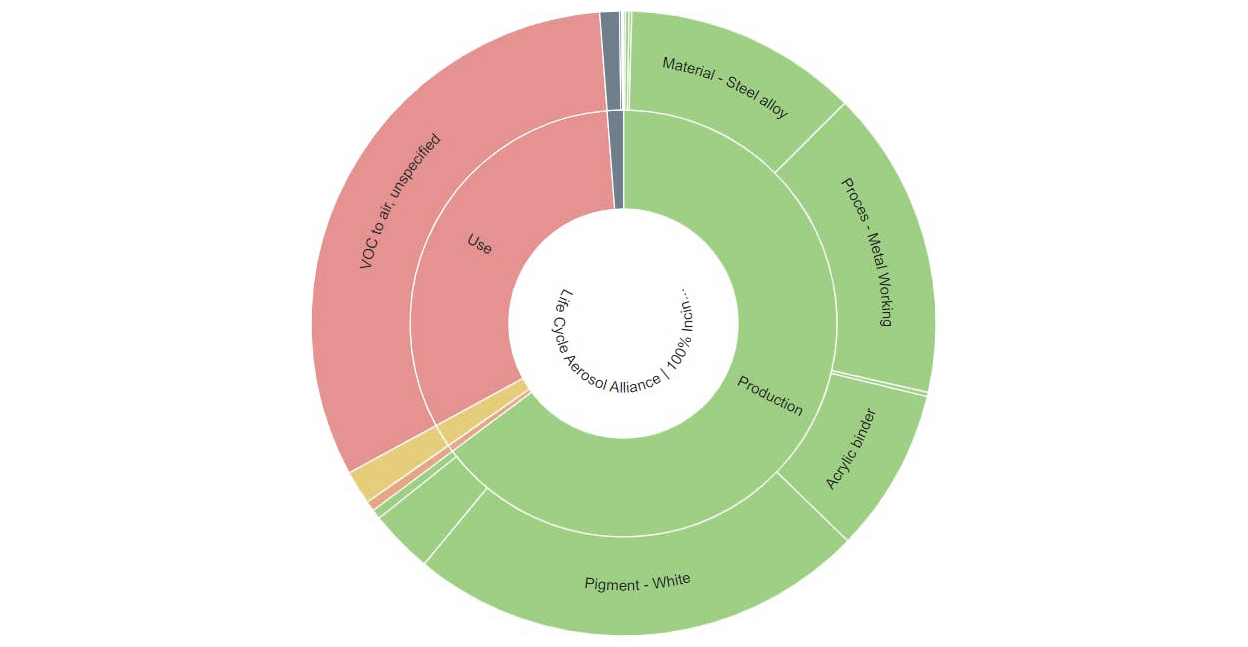 04. Submit Ideas
As artists and creatives, we need to come together as a community and support each other. So if you have any ideas on what we can do to improve the spray can industry feel free to share them with us! We will bundle your ideas, categorize and research them.
05. About Us
The Aerosol Alliance is a group of graffiti artists, street artists, organizers, and curators that have a passion for the use of spray cans. At the same time, we are worried about the negative impact that the use of a spray can has on our environment and on our health. Our aim is to reduce this impact. Our mission is to move towards carbon neutral spray cans in 2030! Together with the entire supply chain of spray paint cans and all relevant stakeholders.
We have just started with this journey and don't know how it will develop yet. So far lots of people with the same mindset have crossed our path and with their help, we are shaping this project. We believe that there is a lot of potential to turn this into a worldwide movement that can drastically change the way the spray can industry works.